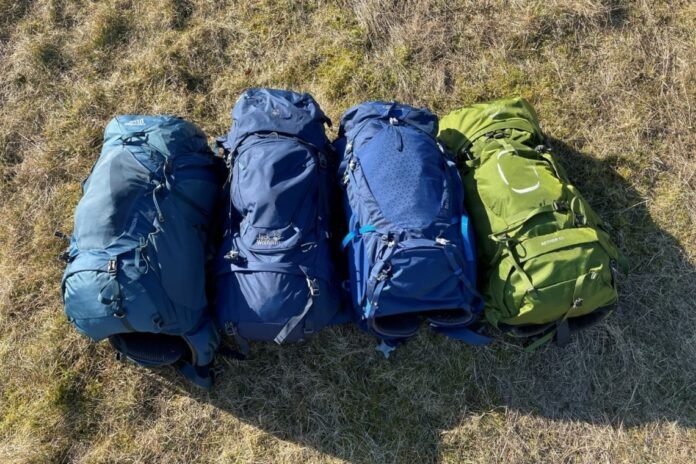 Are you an epic traveller or a 9-5 day shift hustler looking for the perfect backpack for the next trip? There's a large variety of backpacks available in the market but which one is for you is always confusing. Should it be small, medium, big, spacious or compact? Should it have a specific capacity or feature? Should it be bought first and then tested? The list of what ifs and what not may seem endless and tiring. So here's to help you with choosing a backpack in a simple and hassle-free manner. No matter the occasion, let's walk you through the Types of backpacks and 5 Top Criteria To Choose The Right One.
Types of Backpacks
Here are the top three types you can consider.
Weekend (1-3 nights; 30-50 liters)
This goes well for the more experienced ones that are wise enough to travel light. You can choose light and compact backpacks of 30-50litres to pack only the absolute requirements. Selecting a lighter one will ensure you have a memorable trip with plenty of time to move around and explore. Without the heavy load, you'll be carefree and have a fantastic trip to recall.
Multi Day (3-5 nights; 50-80 litres)
Go with this option if you plan a more extended trip, whether it is a warm or a cold-weather trip; you need to have enough clothes to keep you warm if it's cold or sweat free if it's hot and sultry.
Backpacks of 50-80 litres are attractive options if you plan short trips focusing on luxurious recreational activities, including reading, writing, spas, etc. You can decide to carry all the necessary equipment for these activities with you if you're sure that you'll be rooted in one solid location for the entire trip.
Extended trip (5+ nights; 70 liters or more significant)
Seventy liters or more if it's a planned trip for a whole working week and more days in the counting.
Now, these are a must-have if you intend to go trekking with an itinerary for an overnight stay or lots of unforeseen weather conditions. You might need to carry blankets and woolen clothing. Or even a sleeping bag and a large tent to spend a night in the open. Review your requirements and buy the best backpacks that delight you.
5 Top Criteria To Choose The Right One
Storage
The backpack should be spacious and roomy for all your essentials. Specific large pockets to slip in clothing and accessories. Small slip pockets for charging cables, mini-notepads, travel guides and a pen or any other miniature supplies you need on the road. Side Mesh pockets to carry all-time requirements such as an umbrella or a water bottle.
Access
Easy access points are a must. Opening one compartment for all your supplies may be a little chaotic and time-consuming. It's also unreasonable to unpack and repack every time you need something. A two-way zip opening into the main compartment allows you to place things in a specific location in the bag and relocate it at the exact spot instead of undoing the entire backpack. A zip opening into the front pocket also allows you to sift out for the small necessities hassle-free at any time.
Comfort
Keep an eye out for backpacks that keep you mentally and physically comfortable. You don't want to opt for a high-end retro spanky backpack that looks amazing but leaves you with an aching body. Backpacks are in all shapes and sizes, so be patient in finding the one that fits your physique and lets you be comfortable all day. Padded back panels are a must to reduce the load on your back.
Additionally, adjustable and padded shoulder straps will relieve the strain on your shoulders.
Design
Choose a sleek and trendy design that leaves you feeling comfortable yet stylish to go with your choice of clothing. There's a wide variety to choose from – all-around printed, two-tone or single-tone. The features can be open and bulky or simply compact—single compartment options or single with additional front and side pockets or compartments. Check out the design totality before making a final choice.
So be wise and be fully prepared to make a conscious choice for a backpack when the time comes. You know the types and the top criteria to ensure you're on the right track to be on the lookout. You don't want to be lost in a sea of thought or confusion when looking at backpacks the next time. Choose to be aware of all your options. Alternatively, you could also make a note of these and share it with friends and family so they can have a smooth sail the next time figuring out what's best. Remember, backpacks always serve a purpose and be confident about choosing the right one to help you.
Vivek is a published author of Meidilight and a cofounder of Zestful Outreach Agency. He is passionate about helping webmaster to rank their keywords through good-quality website backlinks. In his spare time, he loves to swim and cycle. You can find him on Twitter and Linkedin.