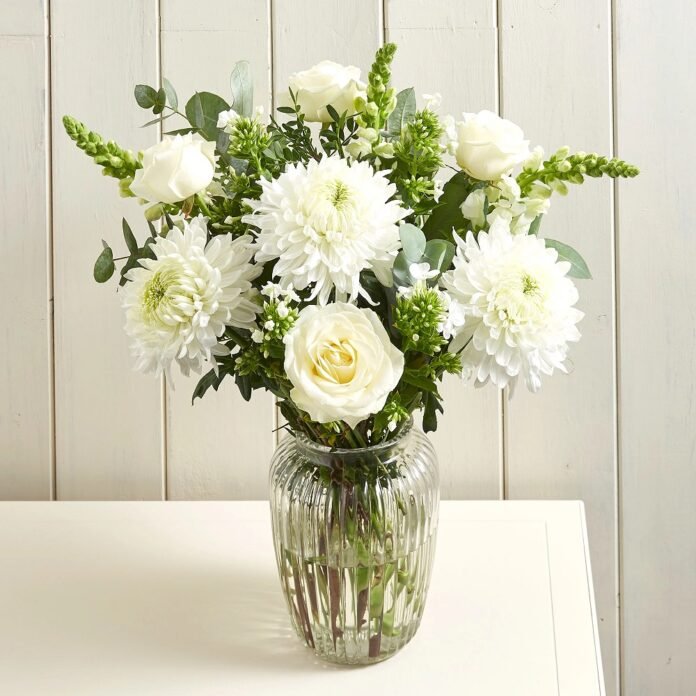 Sending flowers to express condolences to the family is always kind; condolence flower stands and sympathy flowers are both created for this purpose. They express your love and support, whether you can attend the funeral or not.
What Makes Condolence Flowers Different from Sympathy Flowers?
Sympathy flowers are often smaller in size. They might include a plant, a smaller bouquet, or an arrangement. These arrangements are made to express condolences to the family and to make an offering to the living.
Funeral flowers, on the other hand, are frequently chosen by family or close friends and sent to the church or funeral home for display during the ceremony. Funeral arrangements are arranged such that they may be seen from every aspect in the cathedral. They are frequently part of a bigger arrangement or easel presentation. Condolence flowers are designed to pay tribute to the deceased and should not be addressed to anybody in the family. These arrangements are a more direct and heartfelt tribute to the departed.
How to Send the Appropriate Flowers for the Occasion
Flower arrangements for a funeral or memorial ceremony are an important element of the preparations and should be given careful consideration. Flowers may help establish the tone for a service and reveal a little something about the deceased. If you're not sure how to pick the flowers for the service, here are some suggestions to assist you.Consider the Arrangement Dimensions
The sort of floral arrangement you select will be determined by where you want the flowers delivered. Large, standing condolence flower stands may usually be delivered directly from flower shops to funeral homes where funerals are being held. If you are sending flowers to someone's house, you may opt for smaller condolence flower stands or compact flower arrangements.
1. Gauge Which Flowers Are Suitable 
Any sort of flower is ideal for delivering condolence flower stands, if it is expertly arranged by a florist. However, certain flowers have specific meanings, such as white lilies for innocence, pink carnations for recollection, and red tulips for love. While many people pick somber hues for sympathy flower arrangements, colorful and lively spring bouquets can also be used to commemorate the deceased's life.
2. Put Your Condolences into Paper
During such an emotional period, it can be extremely difficult to put your sentiments into words. Most sympathy or condolence floral cards will simply say, "Deepest condolences," "With love and compassion," or "Our thoughts are with you," with the first and last name of everyone who donated to the flowers on the card – within reason. You can still convey your thoughts with a personalized touch as short and sweet as you want.
3.Decide the Right Time to Send 
There is never a bad moment to send condolence flowers to a bereaved family. Even if you only learned about the death after the funeral ceremonies, you may still send a condolence flower stand to the family's house, no matter how much time has gone.
When in question about what activities and measures to take when sending funeral or sympathy flowers, consult with a local florist. They will be aware of local customs as well as any desired color schemes for the service itself. The most essential thing is to convey your sympathies in whatever manner you can.
5 Tips in Sending Condolence and Sympathy Flowers
You can opt for traditional white condolence flowers. Some of the most popular flowers for expressing grief and condolences include lilies, roses, and carnations. The effect of these flowers in a sympathy arrangement is enhanced when they are completely white, although colors are good for expressing thoughts about the nature of your relationship with the deceased. 
You may also incorporate unusual types of flowers. While lilies and roses are usually popular sympathy flowers, you can deviate from the norm by sending more exotic flowers to memorialize someone who was truly distinctive. Orchids, birds of paradise, and anthurium flowers provide the warm spirit of a tropical island, and the Tropical Island Basket includes all three of these lovely blossoms.
The condolence flower stand may be customized. Flowers are one of the most easily personalized gifts you can give to convey the message you wish to express. Florals come in a variety of styles and hues that reflect unique personalities. Involving yourself in the flower selection process not only brings your tribute even closer to the hearts of bereaved.
So, Which One Should You Choose?
Due to distance, many individuals may be unable to be physically there with the grieving. There is no simple way to get through such a difficult time, but condolence flowers are an excellent way to offer comfort and care. Sending flowers becomes a priceless gift and symbol for those who are unable to be present at that difficult time. If you want quality, customized condolence flower stands, Smile Floral offers condolences flower delivery in Singapore. Ensure that you provide accurate delivery details and specify the desired delivery date.
Vivek is a published author of Meidilight and a cofounder of Zestful Outreach Agency. He is passionate about helping webmaster to rank their keywords through good-quality website backlinks. In his spare time, he loves to swim and cycle. You can find him on Twitter and Linkedin.