Women are used to wearing jewelry as a sign of confidence, wisdom, elegance, and security. While most men love to see women being confident about wearing jewelry, some men like to wear it themselves too.
Many men are interested in jewelry but afraid to try them out because of the fear that it might take away their manly charms. Nonetheless, the right piece of jewelry can enhance that charm and make any man come out more attractive.
Men wearing jewelry is not a new thing anymore! Many men are investing significant time into purchasing luxury jewelry. Moreover, a lot of the women love seeing their men wearing jewelry and feel confident about it.
Does Jewelry Make Men More Attractive?
Whether or not men look more attractive wearing jewelry is a subjective topic. It depends on cultural perspective as much as it does on one's personal preference.
If you consider the modern era, men are very much interested in jewelry, especially those keen on looking fashionable and trendy. And if a man is confident about wearing jewelry, he is bound to look attractive.
Society changed a lot, and it keeps changing. People used to live by the idea of jewelry being a female-only item, while in real life, many men love wearing jewelry and enjoy accessorizing themselves.
If we look back at the past, jewelry was perceived as a sign of royalty and prestige. Regular men hardly wore any jewelry. The idea of wearing jewelry was limited to royal men and nobles.
But modern men are more interested in enhancing their outlook according to their preferences and affordability. Jewelry plays a vital role in this. And no, it's not limited to luxury watches or wedding bands anymore.
However, only some see it as a good change because of different traditional values. But the good news is, people are becoming more open to harmless transitions these days. Also, many fashion houses and brands are working with men's fashion jewelry.
What Types of Jewelry Suit Men the Most?
Many fashion brands focus solely on making men's jewelry curated by famous designers and fashion experts. Following are the types of jewelry that research shows that men love to carry to feel confident. Let's take a look.
Necklace
Most men are still not comfortable wearing necklaces. A common confusion is choosing between a heavy or a simple one. The best way to go would be to pick something in between.
You can try out simple medium-weight chains with or without a pendant. Pendants look great on men. It helps to highlight their neck and chest in a more appealing manner.
Since gold is somewhat of a controversial metal for men, many tend to wear silver jewelry. Silver suits men the best, alongside platinum and titanium. Sterling silver goes so well with men's fashion since it is not too bold but still looks classy and tasteful.
Ear ornaments
It was rare to find a man wearing earrings before, but it's not like that anymore. Men can look quite classy wearing studs and other ear ornaments as long as they are confident about it.
If you are someone into ear ornaments, research well to find your right pick. However, instead of large blingy earrings, subtle ones like studs and small hoops may work better.
Although some men pull off bold and eye-catchy earrings very well, so it comes down to how one carries it.
Bracelet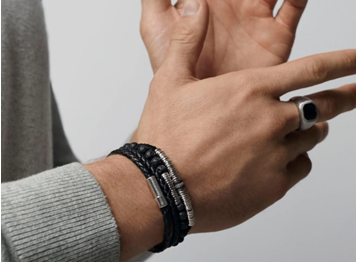 Men's bracelets are very trendy these days. If you look carefully, you can find tons of different styles and categories of men's bracelets. Cuff bracelets go well with any outfit. They are available in various metals.
Aside from that, some other styles that are quite popular are – beaded, chain, layered, and braided bracelets. You can choose what to wear depending on your outfits and events.
Ring
Rings look beautiful on both men and women. Although rings are nothing new to men, they are most used to wearing just wedding rings or wedding bands.
Now, men wear different types of rings. Customized rings have become quite trendy over recent past years. Signet rings also made a resurgence, so maybe something you can consider.
Watch
Watches are excellent when it comes to portraying one's outward appearance. Before, men and women used to wear watches for their usability alone, but now, they mean much more than that.
The right watch can make you appear more assertive and confident. Men worldwide now pay much attention to the details when going for a watch.
When buying a watch, there's a lot to think about. It's best if you own a watch that a family member has passed down to you. This will add sentimental value to its significance and boost your confidence even more.
If you plan to buy one, you need to carefully think about a few things: your wrist size, the current value of the watch, brand value, and price.
While many affordable watches are available in the market, think wisely before deciding so you can continue to use them for a long time.
Cufflinks
Although cufflinks are nothing new to men, how one incorporates them in his styling may make all the difference. Men now use cufflinks in special events to create a more confident yet unique appearance.
The right pair can elevate your fashion to another level. You can choose a different style to make a statement.
Or you can just opt for the regular kind that will complement any other jewelry you wear. Whatever the case, a good pair of cufflinks may level up your otherwise basic outlook.
Tie clip
Suits look great on men. You must be well accustomed to wearing suits or going formal if you are a corporate person and have to attend a lot of business meetings and events.
A great idea for you is investing in quality and elegant tie clips. Most tie clips are made of simple metals or are metal plated. Some come with engraved patterns and designs.
Instead of worrying about the style, choose a clip that will fit your tie and keep it in place. It can be a great jewelry gift for a husband or a family member.
Tips For Choosing The Best Jewelry For Men
The right piece of jewelry can enhance your personality. At the same time, the wrong one can make you look unpleasant. Check out these tips for choosing the best jewelry for men.
Choose something that blends well with your skin tone and skin color.
Pick the right pieces to complement your style; understand your style.
Please don't go overboard with wearing jewelry; it will take the charm away.
Try to include meaningful jewelry pieces with sentimental values.
Know which jewelry to wear when; you need to wear the right piece in the right place to make it work.
Don't go for cheap materials.
FAQs
We discussed some of the top choices for men's jewelry. Now let's look at some common questions asked by jewelry users and enthusiasts all around the world.
Why does some jewelry make your skin green?
Only cheap or low-grade metal jewelry can turn your skin greenish as you wear them. Hence, paying attention to the material when you purchase jewelry is essential. Inexpensive pieces are fine, but fake ones are not.
Do women find men wearing jewelry attractive?
It depends on the preference, for sure. But generally speaking, if a man does not overdo it and picks the right type of jewelry that enhances his features and boosts his confidence, any woman should find him attractive. It's all about understanding what makes you stand out.
What suits a man the best – gold or silver?
Firstly, it's about individual preference. If we think about what looks more pleasant visually, it mostly depends on the person's skin tone. Gold goes well with warm undertones, while silver suits cool undertones the best. You can try both to determine what suits you best.
What can be a good jewelry gift for a man?
It depends on the receiver's stylistic preference. If you are planning a jewelry gift for husband, a friend, or a family member, you should be aware of the type of jewelry he likes to wear. Otherwise, some safe options can be cufflinks, tie clips, cuff bracelet, or a watch (if your budget suffices).
Conclusion
Jewelry is always seen as a sign of assertion, elegance, and beauty. It can be as crucial for men as it is for women. Modern men seem to be more interested in enhancing their looks with jewelry.
We need to leave behind any preconceived opinion to appreciate beauty as it transitions. However, going overboard with jewelry is not appreciated, whether for a man or a woman. If a man chooses the right piece and styles it with a perfect outfit, he is bound to look attractive.
With a lot of men still being skeptical about wearing jewelry, many men are confidently wearing them. In the end, it all comes down to personal preference. If you want to try out a new style with jewelry and think you can pull it off well, you should give it a chance.
Meta: A common query among many people is – does jewelry make men more attractive? Check out this article to find the answer and to know more about men's jewelry.
Vivek is a published author of Meidilight and a cofounder of Zestful Outreach Agency. He is passionate about helping webmaster to rank their keywords through good-quality website backlinks. In his spare time, he loves to swim and cycle. You can find him on Twitter and Linkedin.