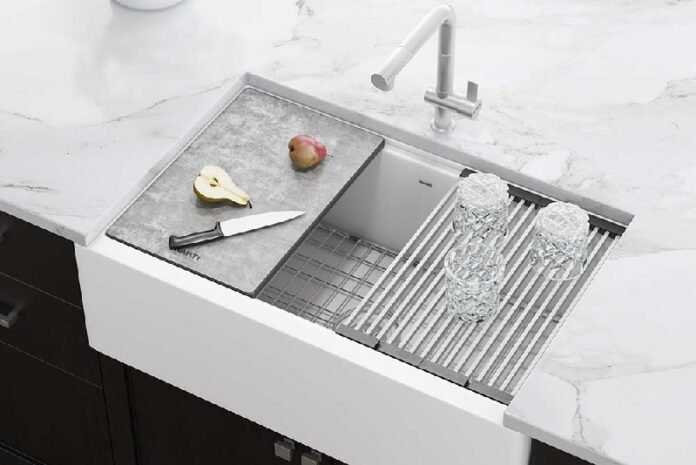 Suppose you wonder whether there is a difference between workstation sinks and farmhouse sinks. The answer is that their functionality is the same, although they vary in some features. A farmhouse sink, also known as an apron sink, consists of a deep sink with an exposed front-facing side.
It's designed the same way as the workstation type and has a large sink with no running water. This article describes the features of workstation and farmhouse sinks, such as copper workstation sinks.
What Are The Features Of Farmhouse And Workstation Sinks
Farmhouse Sinks
As a result of the use of many old sinks in older farmhouses, the name farmhouse was given to the sinks. These sinks are ideal for both traditional and modern houses. They provide the sense that you are surrounded by acres of land in the countryside rather than in a suburb surrounded by people.
If you love the countryside look in your kitchen space, the farmhouse kitchen is for you.
Features
Its aesthetic features are one of the motivating factors why most homeowners become interested in owning a farmhouse sink. You can soak dishes, pans, large pots, and hard-to-clean items like baking sheets and grill gates together due to the width and depth of the sink. Imagine a scenario where the following activities co-occur in the same sink: washing vegetables, defrosting meat, and washing dishes.
You can also install a garbage disposal to help you get rid of food waste.
Workstation Sinks
The modern name for this sink is "apron sink." The sink is marketed to individuals interested in its style but are not thrilled to house their kitchen in a farmhouse style. Either way, a workstation sink is the best alternative for small modern kitchens with limited space.
Features
The sink reduces cross contamination
It comes in-built with an extra counter space
It has a cutting board at the sink to make the sink an ideal place for food preparation if you do not have enough space
It has a drying rack for placing washed dishes. Even though your kitchen might be small, you do not have to put the dishes in an additional room with a drying rack in place
If you want to stack dirty dishes while allowing water to drain, the bottom grid will help you achieve that. What's more, if you have limited countertop space, you can turn the sink into an additional countertop with a cutting board.
What Are The Possible Differences?
There are a few differences between the two sinks. The differences include the following:
Old farmhouse sinks were designed to have a large drying area on the side of the bowl and a backsplash for the tap. They were massive and heavy due to enameled cast iron. By extension, they could function as solo workstations.
Its users also cited installation as an easy and practical process for small American farmhouse kitchens. If you purchase a farmhouse sink today, you will realize it has no backlash.
Instead, it's simply a single large bowl that can be installed in an existing cabinet. It is for this reason that some people consider modern farmhouse sinks as vague farmhouse sinks as they cannot function properly in an actual farmhouse kitchen.
Old farmhouse sinks were made out of cast iron or fireclay giving the sink a traditional aesthetic look. It feels easier to associate an old farmhouse sink with country-style kitchens. On the other hand, modern work sinks come in various ranges of materials such as granite composite, steel, and copper, hence the name copper workstation sinks.
Order Your Copper Workstation Sinks From A Reputable Sink Manufacturer
If your kitchen space is small, copper workstation sinks are a lifesaver in minimizing the need for storage to enhance kitchen functionality. Numerous sink manufacturers offer workstation sinks. Before making your purchase, ensure that all your accessories are from the same manufacturer as the sink to ensure proper sizing.
Vivek is a published author of Meidilight and a cofounder of Zestful Outreach Agency. He is passionate about helping webmaster to rank their keywords through good-quality website backlinks. In his spare time, he loves to swim and cycle. You can find him on Twitter and Linkedin.