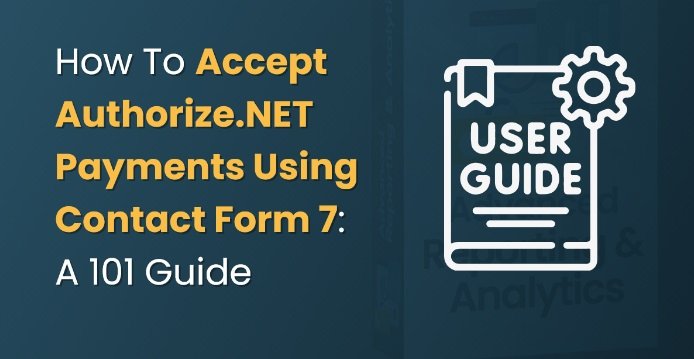 Are you looking forward to utilising Authorize.NET to accept payments on your WordPress site? Do you continuously struggle to find ways to do that? If your answer to these questions is yes, you have landed on the right blog post.
Through this detailed guide, we will focus on informing you about how you can effortlessly accept Authorize.NET payments. You only need to install Contact Form 7 on your website. It's that easy.
If it is tough to believe, check out this informative piece to get a clear idea. Let's begin with our today's discussion without any further delay:
Uncovering Details About Authorize.NET
Visa-owned Authorize.NET is identified as one of the most recognised payment gateway providers in the payments industry. It is a leading credit card payment platform which can effectively handle transactions on your website.
This platform offers safe, easy and affordable credit card and eCheck processing, leading to their continuously increasing popularity. So, as an eCommerce store owner, you would reap several excellent benefits from this.
Authorize.NET is the ideal payment gateway for you if most of your customers return to your site and you accept recurring payments or payments through e-checks. Although the cost of Authorize.NET is higher, this platform has superior solutions to back this pricing.
This platform allows you to accept payment from various payment methods. Another best part about using this is that you are expected to get an anti-fraud detection suite.
It easily integrates with other platforms such as Moolah, Magento, Shopify and Quickbooks. You need a merchant bank account to receive payments from Authorize.NET automatically.
You even get the option to tailor the platform's design and payment location, which is impressive.
Now, let's talk about the different modes of payment that comes with Authorize.NET services in the following section:
Distinct Payment Modes With Authorize.NET Services
Mobile Payment
Online Payment
Electronic Check Payment
Mobile Credit Card Reader
Monthly Billing
About 'Accept Authorize.NET Payments Using Contact Form 7' Plugin
As a WordPress website owner, you must pay attention to the importance of plugins. These act as the building blocks of your WordPress website. You can serve a wide range of objectives by installing add-ons to your existing site.
For example, you can boost your website speed, improve SEO, add contact forms, offer email opt-ins or build an online store by installing relevant plugins. So, you can use an efficient plugin to do whatever you require your site to do.
One fantastic plugin that makes it incredibly easy for you to accept Authorize.NET payments is 'Accept Authorize.NET Payments Using Contact Form 7 Pro'.
Created by the skilled developers of ZealousWeb, this extension has a lot to offer to website owners like you. It lets the users conveniently and safely accept payment through the Authorize.NET payment gateway.
You may already have Contact Form 7 installed on your website. If not, you need first to install this before you move ahead with configuring the 'Accept Authorize.NET Payments Using Contact Form 7' extension.
The next thing that you need to do is to combine Contact Form 7 with the Authorize.NET payment gateway. Don't worry; it is simple to do this job.
You can use this highly effective extension by ZealousWeb to solve any of the payment-related concerns you may be dealing with. With its aid, you can directly accept credit card payments from your customers. As a result, there is always less risk of landing on any 3rd party payment page, ensuring your safety.
Nowadays, most people trust Authorize.NET for online payment processing because it accepts all major credit and debit cards. Another fantastic feature of this platform is that it helps get international transactions from clients across the globe. With advanced fraud prevention tools, you can stay assured of safety.
Now, let's understand how this plugin functions. First of all, the users are required to submit the contact form. On doing that, they will see the payment checkout form, which they can employ to ensure quick and safe transactions.
So, it is easy for you to generate revenue for your site using the 'Accept Authorize.NET Payments Using Contact Form 7' add-on by ZealousWeb.
However, note that you will only get the option of making a single payment as it does not have any recurring payment alternative.
As the expert team of ZealousWeb has made this plugin user-friendly, you will find it easy to install. But, if you require assistance or encounter any problem while installing, then their dedicated technical staff will always help you. They offer service within 30 days of your purchase, including the weekends and public holidays.
Now that you know about the 'Accept Authorize.NET Payments Using Contact Form 7' plugin and how it works, it is time to learn its key features. Let's talk about this in detail in the forthcoming section:
Features Of ZealousWeb's 'Accept Authorize.NET Payments Using Contact Form 7' Extension
Helps you in the creation of multiple payment forms by employing Contact Form 7.
Allows you to look at the Authorize.NET payment data details on the Admin side.
Effectively supports numerous formats on a single post or page.
Allows you to enable Test API Mode to ensure proper payment transaction functioning.
Offers an option to export Payment data in Contact Form 7 to CSV.
Let you tailor the content of the email sent to the admin and customer after transactions.
Provides you with the option to accept payments in 25 distinct currencies.
The Authorize.NET's free version can view the payment transactions of a maximum of 10 entries in the admin panel.
Allows you to incorporate the 'Success Return URL' and 'Cancel Return URL' pages for redirecting after the payment transaction.
Let you send individual emails to admin and customers after the Authorize.NET payment transactions.
Provides you with Shortcode [authorize-details] for revealing the transaction status, transaction ID, and Amount with currency after the transaction has been made.
Saves the payment-related data into the database.
Has options for a search facility and filters on the Admin side.
Assist in accepting dynamic value from front-end parameters like item description, amount, quantity, email, and customer details.
Let you take values from all input fields, such as the drop-down menu, textbox, hidden areas, radio buttons, etc.
The Authorize payment tag added to email content will show the Authorize.NET payment response in the email.
Are You The Ideal Candidate For Installing The 'Accept Authorize.NET Payments Using Contact Form 7' WordPress Plugin?
If you are involved in utilising your website for accepting online payments, then you may be the right candidate for installing this extension. It means all WordPress websites dealing with money or selling services could reap excellent benefits from this efficient add-on.
Below are given some of the website categories that are in tire need of this plugin:
Websites that are dedicated to providing any services
LMS sites inclined towards selling online courses
Nonprofit or charities websites
Etc.
Steps To Follow For Installing The 'Accept Authorize.NET Payments Using Contact Form 7' WordPress Plugin
Manual installation of the 'Accept Authorize.NET Payments Using Contact Form 7' plugin is straightforward. You need to follow some simple steps, and you are done!
In the below-mentioned section, we will discuss the key steps to install this highly efficient extension on your site. So, let's find out:
The first thing that you need to do is to navigate to Plugins –> Add New from the dashboard section of your website.
The subsequent step involves selecting the Upload option and tapping on the "Choose File" option.
After that, consider choosing the contact-form-7-authorize-net-addon.zip file from your desktop once you see the popup.
Now, you need to check the on-screen instructions and wait till the completion of the uploading procedure.
The final step involves activation of the plugin through the prompt for finishing the upload. At this stage, a message will appear that confirms successful activation.
Congrats! You have successfully installed the 'Accept Authorize.Net Payments Using Contact Form 7' extension to your WordPress website. Now, the sky's the limit for you.
After installing this add-on, focus on configuring your settings for creating forms with Authorize.NET in your preferred style.
As already discussed in the above section, the expert team at ZealousWeb will help you if you face any issues while installing this extension. They have even designed comprehensive documentation which you can read to make the overall procedure easy.
Conclusion
After reading this detailed blog post, we are sure you know how the 'Accept Authorize.NET Payments Using Contact Form 7' plugin works. You can now install this extension to your WordPress website effortlessly and reap maximum benefits.
If you want to learn further about this highly effective add-on built by ZealousWeb, get in touch with them today.
Vivek is a published author of Meidilight and a cofounder of Zestful Outreach Agency. He is passionate about helping webmaster to rank their keywords through good-quality website backlinks. In his spare time, he loves to swim and cycle. You can find him on Twitter and Linkedin.