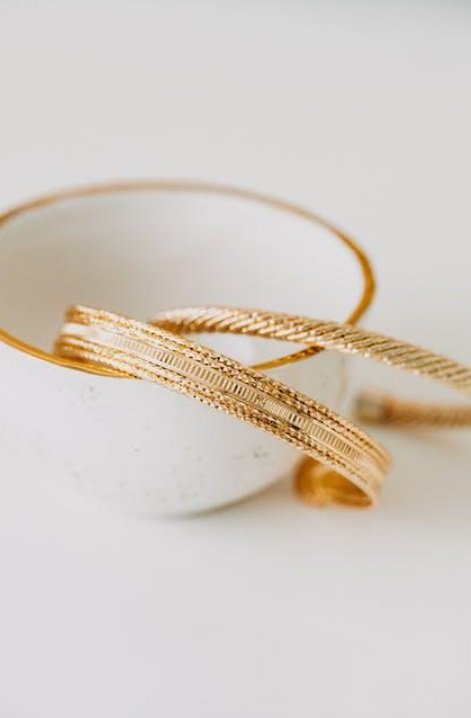 Ever looked at your favorite necklace and found that it's looking way too dull?
Well, if this is the case for many of your pieces, then it's time to replate your gold jewelry. It's a rather satisfying process, that's both fun to do, and also helps you extend the life of your favorite jewelry pieces without costing you an arm and a leg.
Read on to learn everything you need to know about how to replate gold jewelry, from start to finish.
Electroplating 101
The method of electroplating enables the base metal used to produce jewelry to be coated with a highly desired metal.
It is by use of the electrical forces and the flow of current through the plating liquid that metals like gold, rhodium, or sterling silver may be bonded to less expensive base metals.
If you take good care of your plated imitation jewelry, it may survive for a long time, depending on the thickness of the plating metal.
Electroplating for jewelry may take a variety of forms.
An electroplating procedure known as "gold-plating" or "electroplating" is a typical method for improving the look of costume jewelry that was previously gold-plated.
For those who want their jewelry to seem more like rose gold, they might apply a very thin layer of rose gold plating.
Then, we have silver plating. As the name implies, silver plating is the process of applying a layer of silver to base metals like copper or brass, and it is most typically used on costume jewelry.
Fading the jewelry every day without fear of the silvery metal finish wearing off is possible thanks to Rhodium plating, which not only adds a fresh coating of rhodium on white gold or sterling silver but also improves its strength and longevity.
Gold plating can also involve the use of nickel.
Before Replating Gold Jewelry: Choosing the Thickness of Plating
The optimal gold plating thickness is between 0.5 microns and 1.0 microns in thickness. Although most gold-plated items have 0.17 microns of gold plating, this is not the case for all of them. The jewelry may survive for a few months, but only if it's not subjected to hard use.
You may wish to insist on a 2.5-micron layer of gold plating to guarantee that the gold-plated item of fashion jewelry lasts longer. As long as you wear this necklace gently, it'll endure for many years to come.
Always Go With Tarnish-Resistant Metals
It's ideal to have your replated jewelry plated using metals that don't tarnish or corrode readily for the greatest value and longevity.
For example, rhodium plating may be used since the metal is non-reactive and will maintain a beautiful sheen over time.
The use of nickel prior to gold plating is critical if the jewelry is to be protected from tarnishing or wearing out as quickly.
Overall, sometimes you might just want to pick a high-quality piece to begin with. If you've been searching for a custom-made jewelry piece, you can discover more here and shop to your heart's content.
How to Replate Gold Jewelry
The first step is to get a gold plating kit.
A plating wand that connects to the electrical supply, a liquid gold solution, and a power source are the most common components. The gold can't be bonded without this wand. You have the option of using 14-, 18-, or 24-karat gold plating solutions.
Preparing the Surface
Before you begin plating, you'll need to thoroughly clean the surface of the metal you'll be plating.
There are a variety of ways to remove debris from the surface before plating, including sandblasting, polishing, and tumble drying. Cleansing using solvents, abrasives, or acid may be used to achieve this. If the surface isn't adequately prepared, you run the danger of contaminating the tank or getting a poor or partial adhesion.
Cleaning Your Piece
Electrocleaning, steaming, or ultrasonic cleaning are common methods of cleaning surfaces prior to plating.
No oil or debris will be left behind after this second round of rigorous cleaning. Jewelry with nooks and crevices is a suitable candidate for steam cleaning.
Remove Cleaners by Rinsing
To eliminate any cleaning agent residue, the jewelry to be gold-plated must be thoroughly cleaned with water.
Otherwise, you might run the risk of having your plating layers not sticking properly to your jewelry piece.
Adhere the Strike Layer
It is a very thin coating of nickel-plating that bonds to the original metal component, known as a strike layer (also known as flash layer).
As a result, the gold will adhere better to the substrate when you coat it with a nickel layer. It also keeps impurities out of the gold plating tank and keeps metals from combining and reacting in an unfavorable way if it does.
Rinse and Apply Second Coat
You must remove any residue left behind by the cleaners by rinsing the jewelry with water.
Now, you've deposited the silver, nickel, and copper on top of one another in this stage. The last step is to apply a layer of gold to the surface.
The Last Coat and Rinse
The plating solution is used to attract the gold ions or any other final metal that will be visible on the jewelry's surface. It is important to keep in mind that the temperature and voltage requirements for various metals vary.
Hanging from a cathode bar are the jewelry items that you want o coat with gold or silver. It's an electric conductor that has a negative charge.
After that, they're placed in a positively charged tank containing gold-plating solution. The positively charged gold ions will go to the negatively charged jewelry, which will then get an even coat.
Once the plated jewelry has been thoroughly cleansed and dried, it is hung to prevent any of the individual pieces from coming into contact with one another.
Gold Jewelry Tips: The Guide to Replating
The process of gold plating is a fascinating one since it is a combination of science and art. It is common for individuals to get hooked on this artistic process once they begin.
We hope that our guide has given you a solid base on how to replate gold jewelry. Next, you'll want to check out our lifestyle and fashion section for more tips on how to give your style a boost this season.
Vivek is a published author of Meidilight and a cofounder of Zestful Outreach Agency. He is passionate about helping webmaster to rank their keywords through good-quality website backlinks. In his spare time, he loves to swim and cycle. You can find him on Twitter and Linkedin.