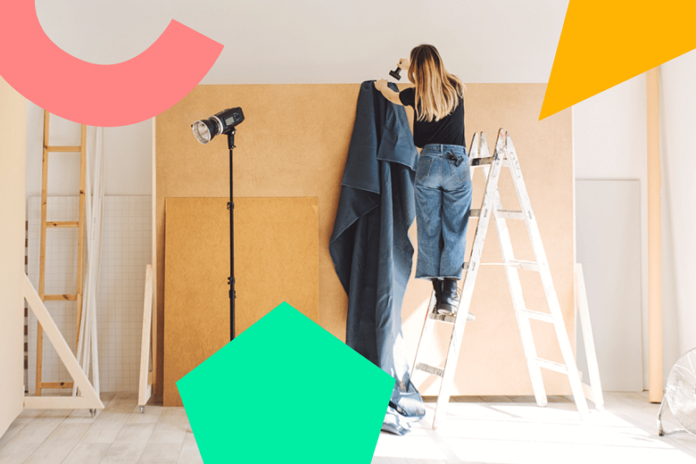 Creating a memorable studio photo session does not have to be complicated. With the right planning, equipment, and attitude, you can create beautiful memories that last a lifetime. The studio setting offers a unique backdrop for creating memorable moments. With the right props and clothing, you can create a scene that sets the perfect tone for your session.
For example, if you're planning to capture family portraits or engagement photos, select backdrops that reflect the personalities of those involved. This could be anything from vibrant colors to subtle hues, classic themes to modern designs. You can also have a family photoshoot with a theme, such as a beach or a cozy fireplace setting.
Preparing the Studio
Now that you've determined the backdrop for your session, it's time to prepare the studio. Make sure you have all the necessary equipment and props before everyone arrives. Here are some of the most important things you'll need:
1. Selecting the Right Setting
This includes choosing the perfect background and props to create your desired scene. You can even borrow furniture or hang artwork on the walls for added character. Adding some special touches like blankets, pillows, and rugs can help bring the scene to life.
2. Creating an Appropriate Mood
To make things easier, select a few mood boards with images and colors that represent the feel of your desired setting. Then use this to create an atmosphere in the studio. This can be done by playing music, lighting candles, or using string lights to add a soft glow to the room. Sometimes even the smallest details can create a powerful impact.
3. Choosing Props and Accessories
Your props and accessories can help create the perfect scene. Anything from flowers to hats to toys can be used to add a little something extra. Play around with colors and textures that complement your backdrop and theme. Some great props to consider include balloons, books, and vintage items.
4. Deciding on Clothing Options
You can bring a few clothing changes for a family session, such as fun and festive holiday sweaters. Or you can opt for a classic look with crisp white shirts, black pants, and leather shoes for an engagement photo. There are endless possibilities regarding clothing choices, so get creative.
Posing and Photographing
The moment has arrived and now it's time to start taking pictures. Depending on the type of session, you may need to adjust your posing style accordingly. You can ask them to look directly into the camera or have them engage in activities like playing music or reading a book. Keep it fun and lighthearted to capture the most natural poses and expressions.
To give you some ideas, here are some things you need to consider during the session:
1. Tips for Working With Models
If you work with models, give them room to move and interact naturally. Encourage them to laugh, talk, and make eye contact with each other. Pose the models in various ways that show their personalities without looking too posed or awkward. You can also have your models hold or interact with the props in interesting ways that add more depth and emotion to the photos.
When photographing families, take advantage of the connection between family members by having them interact naturally. Encourage genuine laughter and happy conversations throughout the session. Also, pay attention to small details such as holding hands, hugging, and kissing. These moments can be some of the most memorable shots from your session.
2. Selecting the Best Shots
When selecting the best shots, look for images that capture genuine emotion. After reviewing the photos, choose a few favorites and ask your client for feedback. You can then make adjustments or tweaks until you get exactly what they are looking for.
3. Editing Techniques to Enhance Your Photos
Last but not least, remember the importance of post-processing. Editing your photos can help bring out the best in each image. You can use various techniques, such as adjusting the lighting, cropping and applying filters to enhance your photos. It's all about choosing the right tools to bring out the best in your images.
Finalizing Your Photos
After you have completed your edits, it's time to finalize the product. You can deliver the photos digitally or print them for a physical product. Be sure to share any final images with the client for their approval before you send them out.
1. Choosing the Right Printing Options
Select a professional printing service if you plan to offer prints as part of your package. This will ensure the highest quality product for your clients. For added variety, you can also use various print mediums such as canvas, metal, and wood. Aside from prints, you can also offer wall art and digital products.
2. Making Albums and Portfolios
Making albums and portfolios are also great options for displaying your work. You can create various packages, including prints, albums, or even digital files. This allows your clients to share their photos with friends and family in unique ways.
3. Sharing Your Photos with Friends and Family
You can post the photos on your own website or social media platforms. This is a great way to get your name out there and build a portfolio of work others can admire and appreciate. This will also build trust with your clients and encourage them to recommend your services to others.
In Conclusion
Photography is an amazing way to capture special moments that can be treasured for years. When done in a professional studio setting, you can create one-of-a-kind memories. Documenting these memories through photos gives your clients something to look back on and remember fondly.
From the clothing choices to the final prints, there are many details to consider when planning a session in the studio. With the help of a professional photographer, you can ensure that your photos will make a lasting impression on your clients. It doesn't matter if you are working with models, families, or individuals – by following the tips outlined in this article, you can create stunning photos that will be cherished for years to come.