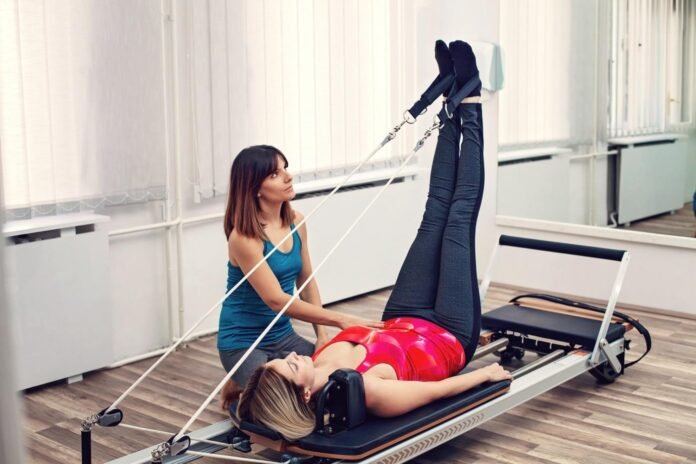 In the United States, over 53% of adults work out or exercise on a daily basis.
One of the most popular forms of exercise is Pilates. It has grown from having only a few thousand practitioners in the 1990s to having millions of faithful today. In order to get the most of your Pilates workout, you need to know what pilates equipment to have on hand.
Here are 7 pieces of equipment that you should invest in if you want pilates to work for you:
1. Resistance Bands
Every movement of the body burns calories and improves function, but not every movement does it to a high degree. If you add resistance training, then the movements in your workout will be worth a lot more to you. Resistance bands help to increase lean body mass and muscle tone.
There are a wide variety of resistance bands, the important thing is that you get bands that work for you. If you get bands that are too stiff you can injure yourself using them. Remember to use them in a safe and responsible way, as there are many videos out there to show you the results of resistance band accidents.
When purchasing resistance bands, make sure to get a full set. This way you can increase the difficulty as you need. Resistance bands are also great for working stabilizing muscles and balancing muscle loads. These are the essential muscles that help with every workout.
2. Pilates Ring
If you want to increase the effectiveness of any workout, you need to get a pilates ring. Not only will this increase the resistance of the workout, but it will add stabilization, strength and even help increase endurance. The best part is, pilates rings work for people of all ages and fitness levels.
One major benefit to using a pilates ring is that it increases heart health. By adding resistance to basic movements, you force the heart to work harder. As a result, your heart will become stronger and your endurance will increase.
What could be better than improving your balance while increasing the endurance and strength of the most important muscle in your body? If you're going to do pilates at home, you should consider a pilates ring part of your essential kit.
3. Grippy Socks
This may not be what you were expecting, but having a pair of grippy socks can mean the difference between a good workout and an injury. The last thing you want to do while working out is slide on the floor. Even if you work out on the carpet, having grippy socks will give you added stability.
Added traction can also help you get the most out of every exercise. It allows you to put energy into the workout and get the proper amount of resistance. Grippy socks are also good because they prevent sweat from accumulating on your feet, which can cause slips and falls as well.
You don't want to slip or slide when you are under pressure, that is how joints and tendons become injured. Have a good pair of grippy socks that fit well as part of your essential pilates equipment for home workouts. Experiment with brands and sizes to find the one that fits you the best.
4. Wrist or Ankle Weights
The goal of pilates is to build up lean muscle mass, balance, and health. All of the movements are designed to accomplish those goals. Having added resistance in the form of ankle or wrist weights helps to build muscle mass faster without losing the flexibility and range of motion that is so important.
You should make sure to have pilates exercise equipment that helps you meet your goals. This is where ankle and wrist weights can come in handy. You can increase the difficulty of a workout without increasing the chances of injury, and keeping the weight small means you'll barely feel it.
You will notice the effects after a while, with the increased tone and definition. Plus when you remove the weights you'll notice how much easier everything has become without them on. Just remember to not stress your joints by using weights that are too large for you.
The impact of wrist or ankle weights comes into effect with the increased intensity they bring to a workout. Even adding a few extra pounds can increase the oxygen intake of your body by over 10%. 1-3 pounds of added weight is enough to increase your heart rate by 10bpm as well.
5. Foam Rollers
One of the best pieces of equipment for pilates is a foam roller. You can use these to dig deep into the core, strengthening your core while also adding balance and stretching. Not only will this help build lean muscle mass, but foam rollers can also help relieve muscle pain.
A foam roller also helps improve joint mobility, because using one forces your joints to operate along with their full range of motion. This can have a strong rehabilitative effect on your shoulders, wrists, and elbows as well as your back and hips. Foam rollers are also a great way to warm up for a workout.
Warming up with foam rollers will also help you combat inflammation. Any time you stress muscles and joints in your body, inflammation can occur. Controlling inflammation is important if you want to be able to continue your workouts without delays or undue pain.
Any piece of equipment that has more than one use is better than single-use equipment. If you can get a bit of warm-up in, stretching, and soreness reduction out of a single piece of equipment, it is something you want to have around.
6. Pilates Reformer
The Pilates reformer is the most important piece of equipment that you can have on hand. Pilates reformer equipment will help you engage every muscle in your body in the best way possible. You will see increased stability, balance, and muscle gain from using the reformer.
A reformer looks like a bed with springs, it has a sliding carriage along with ropes and pulleys. The first examples of the Pilates reformer come from all the way back in the 1920s. If your goal is to completely reinvent your body and change how you look and feel, the reformer is something you need to get comfortable with.
Using a great pilates reformer will help to build up abdominal strength as well as strengthen your glutes and hamstrings. All of these muscles help to support the spine, which means that you'll see improved flexibility and posture as well as other gains.
If you want to see the maximum benefits of doing Pilates, then you must have a reformer. The beauty of this piece of Pilates equipment is that it targets the major muscle groups of the body all at once, while also stressing the smaller, stabilizing muscles.
Using the Pilates reformer even 2-3 times a week will contribute significantly to changes that you'll begin to see in your body. Regular use of a reformer will help you sculpt yourself into a new look in as little as 10-12 weeks. This is truly one of the fundamental pieces of Pilates workout equipment you need.
7. Pilates Sliders
Incorrect movement is one of the quickest ways to end your workout on a sour note. Don't risk injuring yourself at home, get a set of Pilates sliders. Sliders help to make workouts at home possible because they move across floors that are tile or hardwood.
Using sliders continues the trend of stressing the muscles without overloading them. This builds lean mass while forcing your muscles to balance and increases resistance training. This helps you build up precision in your movements, and helps reduce the chance that you'll experience an injury.
Sliders are also great if you have issues with space. They help turn any area of a home or apartment into a workout space without the need for bulky equipment or a lot of clutter. As a result, sliders are essential for anyone who doesn't have a dedicated workout room in their home.
Pilates Equipment
Pilates workouts can be done without equipment, but doing so will reduce the effectiveness considerably. Having something as simple as a reformer as your pilates equipment in your home is the best way to make sure that you are getting maximum returns for the time you invest in being healthier.
If this article was helpful or interesting, take a look at our website for more information.
Vivek is a published author of Meidilight and a cofounder of Zestful Outreach Agency. He is passionate about helping webmaster to rank their keywords through good-quality website backlinks. In his spare time, he loves to swim and cycle. You can find him on Twitter and Linkedin.