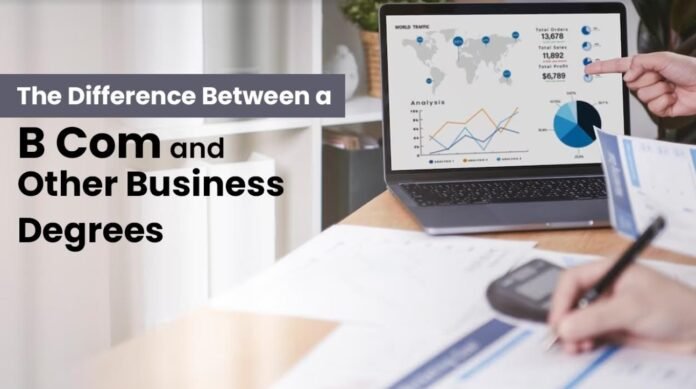 The period of making career plans is quite bewildering, thrilling, terrifying, and filled with all other unpleasant emotions. However, the choice of a particular academic program entirely depends on individuals' choices and preferences. Lately, we have witnessed students taking up commerce or business courses as both degrees expose students to many academic subjects and give them access to a wide range of employment options. We shall discuss the distinctions between a B.Com and other business degrees throughout this blog, and will make an effort to help students choose the best degree for them.
Table of Contents:
Read to have a better glimpse of the B.Com and other business courses What is B.Com? What are UG Business degrees all about? Differences between B.Com and Business DegreesThe curriculum of a BCom and a Business Degree Job options after completing BComChoices for employment after earning a business degreeWhy pursue BCom at Arya College, Jaipur? ConclusionFAQs
Read to have a better glimpse of the B.Com and other business courses
As we know, each degree has a distinct curriculum and course offerings that are separate from the others. Before getting into further details, let us talk about the Bachelor of Commerce, and the Business study programs in simple terms.
What is B.Com?
A UG program called BCom, or a bachelor of commerce concentrates on improving students' conceptual understanding of finance, accounting, and business. Three years are required to complete a BCom degree program in India, which is made up of six semesters. Financial accounting, business mathematics, business laws, economics, cost accounting, and other related topics are typical BCom subjects. Also, if you want to pursue an upgraded undergraduate degree in commerce, the Bcom colleges in Jaipur may be your best option.
What are UG Business degrees all about?
Business degrees typically take three to four years to complete at the undergraduate level (depending on the country and program), beginning with a focus on fundamental business concepts, undergraduate business degrees often eventually allow students to select specializations like Marketing, Human Resource Management, International Business, Entrepreneurship, Project Management, Operations Management, etc. Business degrees enable graduates to pursue professions in a variety of fields.
Differences between B.Com and Business Degrees
Due to the similarities between BBA and BCom, there is often confusion between the two degrees. Besides the qualifying requirements, selection procedure, course level, etc, there is also a commonality in the subjects covered in the courses. To avoid this confusion, we attempt to point out some of the important factors in the following points that differentiate these two:
A Bcom degree is the appropriate one for students interested in learning about finance, and it builds a solid foundation for prominent courses in commerce, such as M.Com, MBA, CS, CA, and related fields. The Bcom colleges in Jaipur offer complete aid in choosing subsequent study programs after graduation. But, the goal of business degrees is to teach students the fundamentals of business administration. A business degree holder can pursue advanced study like MBA with a variety of specializations, or go for other business courses.
A BCom graduate can obtain a handsome package in the world's top organizations due to the greater scope of prospects. Finding the ideal position in reputable firms is possible if you obtain a degree from the Bcom colleges in Rajasthan. However, rather than receiving lucrative salary packages, the business program gives students the chance to develop their ideas and transform them into more elaborate plans, which helps them to become successful entrepreneurs.
When eligibility requirements are taken into account, business degrees may be simpler to enroll in because students from practically all streams are permitted to do so. Contrarily, Bachelor in Commerce typically accepts students from the commerce stream.
The typical range of Bcom course costs is between INR 10,000 and INR 50,000. In contrast, the cost of business degrees might range from INR 50,000 to INR 2.5 lakhs rupees.
The curriculum of a BCom and a Business Degree
Certain similarities exist between the BCom and business courses syllabi and one important aspect that sets the two apart is the teaching strategy. The syllabus arrangement may differ from person to person depending on your area of concentration.
The following table lists the majority of subjects covered in Business and BCom degrees and highlights the different topics covered in these academic programs:
| | |
| --- | --- |
| Topics included in a BCom course | Topics offered in undergraduate Business courses |
| Business Organisation and Management | Business Mathematics & Statistics |
| Business Laws | Business Economics |
| Income Tax Law and Practice | Production & Material Management |
| Cost Accounting | International Finance |
| Principles of Marketing | Personal Selling and Sales Force Management |
| Industrial Laws | Performance and Compensation Management Systems |
| Training and Development | Quantitative Techniques for Management |
| Indirect Tax Laws | Business Statistics and Applications |
| Auditing and Corporate Governance | Business Economics-II |
| Corporate Tax Planning | Training and Management Development |
| Company Law | Investment Analysis and Portfolio Management |
| Corporate Accounting | Financial & Management Accounting |
| Business Mathematics and Statistics | Principles of Management |
| Financial Accounting | Introduction to Operations Research |
Job options after completing BCom
A variety of academic and professional courses are available for anyone who wants to increase their knowledge and expertise in a field, and so after earning a BCom degree, you can choose from a variety of professional courses available at the best Bcom colleges in India.
However, completing an undergraduate degree in commerce can provide you the opportunity to work in the following roles:
Business Executive
Tax Consultant
Accounts Manager
Financial Consultant
Business Consultant
Account Executive
The pay offered for the positions listed is shown in the chart below:
Source: payscale.com
Choices for employment after earning a business degree
The majority of bachelor's degrees awarded during the 2018–19 academic year were in the field of business. Additionally, the number of students enrolled in business study programs has rapidly increased during the past several years. This degree can help you explore a variety of sectors, by making you eligible for top-most positions, some of which are mentioned below:
Marketing Manager
HR Executive
Marketing Executive
Sales Executive
Public Relations Manager
Financial Advisor
Here is a detailed view of the salary ranges for the above-listed roles:
Source: payscale.com
Why pursue BCom at Arya College, Jaipur?
Arya College features highly skilled and experienced professors who can help students develop their decision-making, critical thinking, organizing, and planning skills. One of the college's most technologically advanced and energetic departments is the department of commerce. It is composed of:
Smart, and air-conditioned classrooms
Computer labs with advanced commerce software applications
Departmental and central libraries, where students can find e-books, scholarly journals, periodicals, newspapers, and reference materials. With the aid of the institution's login credentials at the library, students can also access websites for paid journals.
As one of the most recommended Bcom colleges in Jaipur, it encourages the pupils to take part in numerous interactive and collaborative activities.
Conclusion
To sum up, business degrees are a better option for those who want to strengthen their managerial skills, whereas BCom is a more specialized subject. To make the best decision, it is always advisable to evaluate your aptitude, abilities, and interests first. We hope this blog helps in solving some of your queries regarding BCom and other business degrees.
FAQs
BCom or Business Degrees- Which offers more job opportunities?
Either course can be used to achieve career goals. However, business degrees provide more employment options than BCom degrees do. This is because a business degree includes both theoretical and practical expertise, whereas a BCom concentrates mostly on academic information.
What is a business degree in Information Technology all about?
The knowledge and abilities needed to manage the business's associated technology will be given to the students in this business course. It is one of the most sought-after fields and is essential to an organization's development. System analysis, information security, and the most recent technological advancements in the business world, etc are included in its syllabus.
Who are the top-most recruiters for Bcom graduates?
ICICI, Kotak Life, Deloitte, PWC, Accenture, Capgemini, Cognizant, and HP are some of the well-known organizations hiring BCom graduates. The Bcom colleges in Jaipur provide the best career guidance for getting a job in such reputed organizations.
What qualifications must be met to pursue a business degree?
Most UG business degrees only require a high school diploma and no prior experience. However, a bachelor's degree is required for postgraduate business degrees, especially those leading to the MBA. Also, if you are applying to a highly competitive MBA program, management experience can be very beneficial.
Are online business degrees recognized by employers in India?
Yes, major organizations typically accept applications from candidates who obtain their degrees online or through distance learning. However, the selection criteria may differ from one organization to another.
Vivek is a published author of Meidilight and a cofounder of Zestful Outreach Agency. He is passionate about helping webmaster to rank their keywords through good-quality website backlinks. In his spare time, he loves to swim and cycle. You can find him on Twitter and Linkedin.