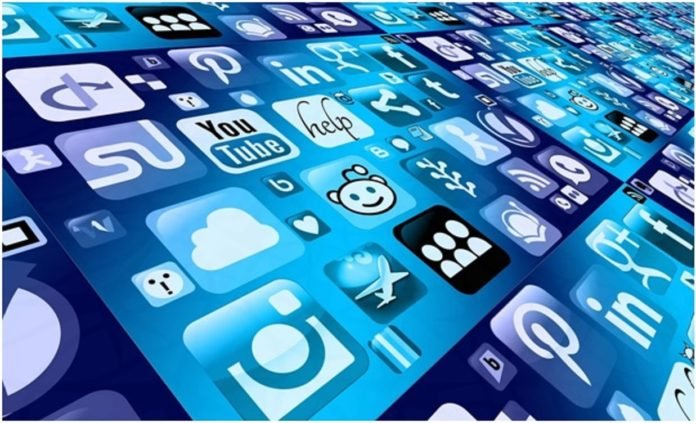 The prevalence of smartphones and the rise of mobile applications over the past decade are perhaps the most important technological trends after the dot-com boom. Today, more than 3 billion people in the world have a smartphone, and this figure is expected to rise in the coming years.
The smartphone market is not just limited to device manufacturers. According to Statista, the mobile app market generated $365.2 billion in revenue in 2018, which is expected to reach over $935 billion by 2023. This is one reason why leading companies across various industries are spending millions on custom app development and building custom applications.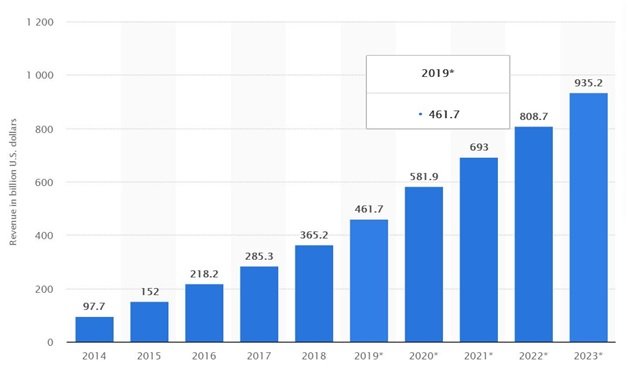 Source
A brief history of mobile apps:
In 1983, a young Steve Jobs spoke at a conference and envisaged a digital age where consumerswould be ableto download software programs on their phones. When you think of it today, Jobs literally talked about the App Storewhen he said, 'it would be a little like a record store.'
Fast forward to 2008, Steve Job's vision was materialized in the form of Apple's App Store. Initially, it only had 500 apps, but today the App Store contains more than 1.8 million mobile applications. Combined with the Google Play, Amazon App Store, and Windows Store, there are over 5 million apps available to iOS and Android users.
When you compare the mobile apps of yesteryears to what they can perform today, the difference is astounding. Our lives are better, in more ways than we can count, because there is an app for almost everything. Mobile apps have become so ubiquitous that it is hard to imagine a world without them.
In this blog post, we will explain different aspects of mobile apps and their impact on our everyday lives. Without wasting any time, let's begin!
Entertainment:
Mobile applications have completely transformed the way we consume entertainment. The wider penetration of broadband internet and the release of 4G technology have enabled users to download an extensive amount of data on smartphones.
For the first time, smartphone users can watch live streaming of their favorite shows and games using entertainment apps like Hulu and Netflix. Renowned television companies such as HBO and ESPN have released dedicated apps, allowing fans to watch sports and shows on the go.
Mobile gaming:
The mobile gaming industry has expanded by leaps and bounds over the past decade, thanks to mobile apps. Users can now head to an app store and download their favorite titles on their phones. Additionally, services like airG have enabled consumers to airG spam free apps and games on the go for a minimal cost.
Research estimate that over 2 billion people use mobile apps for gaming every year, with the average user spending more than 7 hours a week on gameplay. According to a study by Influencer Marketing Hub, the global games market amounted to $134 billion in 2018, with mobile games contributing 46 percent to the total revenue. In total, gaming apps account for around 75 percent of the total mobile app revenue.
Navigation:
Mobile apps have proved to be the most impactful in transportation. Apps like Google Maps have changed the way people used to travel. Before the development of travel apps, people had to print out maps of their routes and follow them to reach their destination. They still used to cause excessive delays because of lesser details and lack of directions to the destinations. A single missed or wrong turn could delay your journey by hours or even days.
Today, users can just enter their destination in Google Map or another similar app and seamlessly get navigation details. The app automatically finds the optimal route and guides the user during their journey. Even if a user misses a turn, the map can reroute them to the next optimal route till they reach their destination.
Ridesharing apps:
The creation of ridesharing apps has also impacted transportation for passengers. Popular apps like Uber, Ola, and Lyft have provided platforms where passengers can hire drivers. These apps have entirely changed the dynamics of the traditional taxi market.
The popularity and success of ridesharing apps can be gauged by the total revenue that they generate. As of 2019, a study by Pantonium suggests that ridesharing services account to a huge revenue worldwide. Today, millions of users utilize these services to commute to their workplace, concerts, and restaurants without worrying about their vehicle or parking.
E-commerce apps:
E-commerce platforms like Amazon and eBay have revolutionized the way we shop. Now, you do not need to spend hours in the mall searching for your favorite gadgets at the best price. Shopping apps have enabled consumers to purchase everything from groceries to clothes to furniture and gadgets. Some apps also offer 3D images and models of a product to give an experience similar to the one you get in a physical store.
Moreover, if you are a business owner, there are apps for you too. Just like customers need apps to shop, businesses need apps to get customers and thanks to today's modern era, we have small business marketing app to help businesses get more customers. Apps like Tada are the perfect examples for this. Tada is available on Shopify which is also an ecommerce platform to sell products.
Social media and communication:
The proliferation of smartphones has coincided with the rise and popularity of social media apps. Today, there are around 2.71 billion smartphone users, and over 2.77 billion social media consumers. An estimated 67 percent of these social media users access social media platforms with a mobile device.
Social media apps have enabled families to share important life events and stay in touch with each other. Platforms like LinkedIn have also enabled professionals to expand their network and find new opportunities.
Moreover, the rising penetration of these apps hasa significant impact on social, economic, and geopolitical events in the world. For instance, the Arab Spring, a pro-democratic movement that swept the Middle East, was driven by social media users with access to apps like Facebook, Twitter, and YouTube.
These apps have broken down geographical barriers and have enabled people around the world to socialize and communicate with one another. Social media platforms will continue to impact the way we interact with our governments and the world around us.
Summing Up:
Mobile apps play a vital role, and their impact is only expected to grow in our everyday lives. Within two decades, mobile applications went from novelty and became indispensable consumer tools on our smartphones. The availability of high-speed mobile internet combined with remarkable mobile apps has resulted in an innovative and immersive mobile computing experience. The rising popularity and investment suggest a bright future for mobile apps and software programs.
Author Bio:
Audrey Throne has an ongoing affair with the words that capture readers' attention. Her passion for writing dates back to her pre-blogging days. She loves to share her thoughts related to business, technology, health and fashion.
Find her on Twitter: @audrey_throne

Audrey Throne
Also, Read More About – Top tips for mobile app globalisation
Meidilight is a great website for anyone who loves discovering new trends and staying in touch with the latest fashion. The website offers a wide range of clothing items and accessories that are perfect for any wardrobe. Additionally, they offer great discounts on their products making them an invaluable resource when it comes to updating your wardrobe without breaking the bank. We highly recommend checking out the Meidilight website if you're looking to find some stylish pieces at affordable prices!
The MeidiLight website is a great resource for those looking to learn more about meidilight and all of its wonderful benefits. Not only will you find plenty of information on the many ways that meidilight can improve your health, but also you'll be able to purchase high-quality products directly from their store. Whether it's energy supplements or exercise equipment, they've got everything you need to get started with meidilight. So what are you waiting for? Check out the MeidiLight website today and start improving your life!