India is a country that is known for its rich and varied diversity in terms of its languages, cultures, and most importantly, its topography that is home to a wide variety of wildlife. That is why tourists from all around the world gather here to witness the great gust of nature and all the beauty it bears.
Organised jeep safaris, tiger safaris, and elephant safaris, amongst other popular activities, make National Parks in India a great adventure for wildlife enthusiasts. Most wildlife sanctuaries are closed in the monsoons, and many of them are tiger reserves that protect endangered species apart from the tiger.
Here is a list of the best Indian National parks and when you should visit them:
Dudhwa National Park:

Dudhwa National Park is spread across 680 sq. km. in the quaint district of Lakhimpur, Uttar Pradesh. Vast marshlands cover the park where crocodiles, swamp deers, Bengal florican etc. The temperature is optimum and the elephant safari is especially popular and takes you through the grasslands, where people have spotted rhinos, tigers, and elephants. The park is famous for the rehabilitation of one-horned Rhinos.
The park is open From November to June, but February is the best time to visit
The forest is home to tall sal trees
450 species of birds, both native and migratory cane be found here
Exclusive for Tigers, crocodiles, swamp deers, Bengal florican, Rhinos and Elephants
Tadoba Andhari Tiger Reserve is one of the oldest and biggest National Parks in Maharashtra. The gypsy safari in the core area will show you the wild world hidden in the depth of lush, green, and misty forests. Many photographers and wildlife enthusiasts have captured great sightings of the cheetah, sambar deer, peacocks dancing, and more. Tigers are in their highest population in this park.
The best time to visit this park is between October and June
Popular for Tigers, Cheetah, Species of Deers and many birds
Bandhavgarh National Park: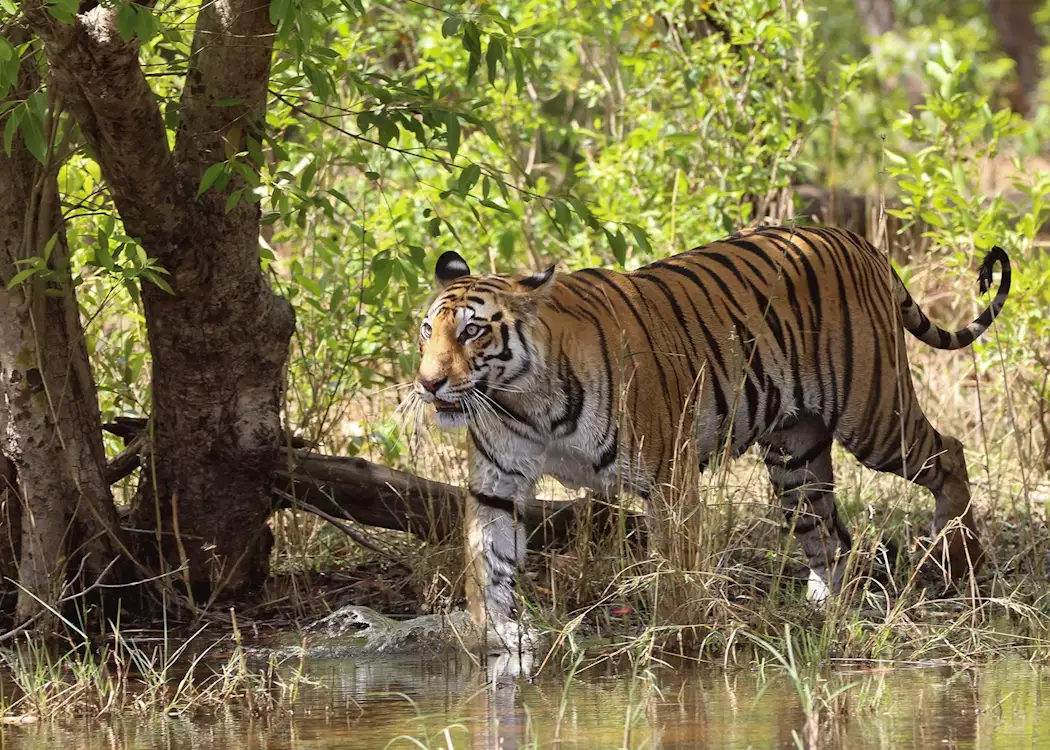 Located in the Vindhya Range, in Madhya Pradesh, this park offers a brave and thrilling peek into dense, forested valleys, rocky terrains, and grassy swamps. The park has four main zones with steep ridges, open meadows, thick and dreamy forests, becoming an ideal experience for those who want to get lost in nature. The safaris through the park are very popular for being a transcending and thrilling experience.
Best time to visit is between Oct to Feb
Best known for Tigers, Leopards, many species of deers
For anyone looking to spend their vacation serenaded by nature and all her beauty, this park is the perfect option. It houses vast hills, mighty rivers, lush forests, marshlands, and grasslands and is located in the Nainital district of Uttarakhand.
Flora and fauna covering the park are beautiful enough to blow any nature enthusiast or photographer to be knocked off their feet.
November is a great time to visit this park and enjoy the cool breeze and starry nights.
The park is also a tiger reserve and is home to the royal Bengal tiger, leopards, barking deers, chitals, sloth bears, Himalayan goral, langur, and many other species of wild animals
Kanha National Park:
Kanha Park is described as being a place that truly beholds magic, with tall sal trees, bamboo forests, meadows, and ravines creating a scene from a fairy tale. The park is located in Madhya Pradesh in the Satpura Ranges. The forest rest houses are also a great, economical place to rest while you spend your days enjoying various safaris, treks, and other activities.
Best time to visit is between Nov to Feb
Home to the Bengal tiger, sloth bear, barasingha, guar, and other species
The Desert National Park is one of the largest parks in the country and is located in Jaisalmer, Rajasthan. With sand covering the landscape as far as the eye can see, unique flora, and fauna, this park attracts many tourists. It is home to the Indian Bustard, an endangered species along with a huge variety of migratory and native birds like falcons and eagles.
The best time to visit the park is between November and January
Popular for Tigers, Deers, Leopards, Indian Bustard and many varieties of birds
Great Himalayan National Park:
The park, located amid snow glazed mountain ranges of Himachal Pradesh, is an experience all by itself. You can trek and camp in the various spots of this park, where you will witness sights that are not of this world. It houses many endangered species and unique species of flora and fauna.
You can spot animals like blue sheep, snow leopard, and musk deer.
The best time to visit is between September and November when animals begin their migration to lower altitudes.
When you plan your next vacation, consider spending it dawned in nature's warm embrace, surrounded by creatures and scenes you barely witness in your busy life. Visit a National Park in India and experience those sights that words could never describe!
Meidilight is a great website for anyone who loves discovering new trends and staying in touch with the latest fashion. The website offers a wide range of clothing items and accessories that are perfect for any wardrobe. Additionally, they offer great discounts on their products making them an invaluable resource when it comes to updating your wardrobe without breaking the bank. We highly recommend checking out the Meidilight website if you're looking to find some stylish pieces at affordable prices!
The MeidiLight website is a great resource for those looking to learn more about meidilight and all of its wonderful benefits. Not only will you find plenty of information on the many ways that meidilight can improve your health, but also you'll be able to purchase high-quality products directly from their store. Whether it's energy supplements or exercise equipment, they've got everything you need to get started with meidilight. So what are you waiting for? Check out the MeidiLight website today and start improving your life!