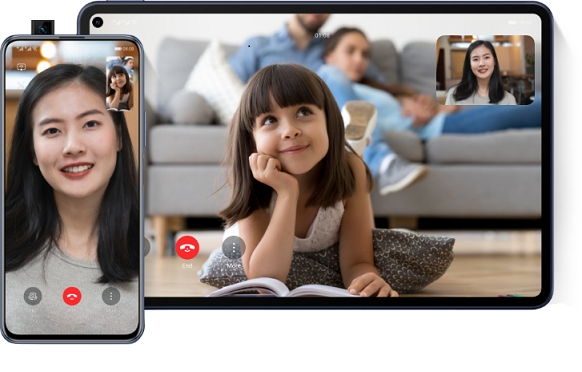 Introduction:
Huawei, once China's second-largest smartphone manufacturer behind Samsung, has slipped to third position in the country's smartphone market share during the last few years.
The announcement of a new Huawei camera phone creates news in both the tech and general press every time it is unveiled.
The battery life and charging speed of the HUAWEI nova Y9a have been particularly designed for this device. You can recover 70% of the battery's capacity in under 30 minutes when using the HUAWEI SuperCharge3, which has a power of 40 W. With its 4,200 mAh battery and artificial intelligence power saving capabilities, you won't have to stop for recharging as often when travelling.
Camera features:
The HUAWEI Nova Y9a's main camera is equipped with an ultra-wide angle lens, a depth sensor, and a macro lens. Thanks to powerful artificial intelligence (AI) technology, the four rear-facing cameras are able to scan a scene and collaborate to generate breathtaking images, whether in bright sunshine or in the dark, at a distance or up close. With a high-quality camera with a resolution of 64MP, you can record extraordinary moments in vibrant and crystal clear detail. It is possible to capture high-quality images for a variety of occasions, from unexpected snowfalls to family reunions and high school graduation ceremonies.
Because the front camera is constantly ready to go, you'll have a unique and pleasurable selfie and video chat experience with it. Screen notches have also been eliminated in order to provide a more immersive viewing experience.
The Huawei nova Y9a is available for purchase from Technology 6.
Having 8 GB of RAM and 128 GB of ROM storage allows you to save more images, movies, data, and chats on your computer than you could previously have.
Because of its interaction with other HUAWEI devices, it is feasible to utilise HUAWEI MeeTime even if you have a bad network connection.
Smart screenshot feature:
A screenshot may be taken by knocking twice on the screen with one knuckle, or by knocking and drawing an enclosed area on the screen to capture a portion of the screen. The picture will be recorded if you knock on the screen twice with two knuckles. To capture a scrolling screenshot, knock with one knuckle and draw the letter "S" on the screen.
Design and display:
The Nova Y9a features a back panel that looks like glossy glass and has a contemporary design. On the panel, there is a circular camera island that has a quad-camera setup.
The 1080p resolution of the 6.63-inch IPS LCD screen on this smartphone is achieved without the use of a notch. It is possible to attain an impressive screen-to-body ratio of 92 percent, a contrast ratio of up to 1500:1, and an RBG colour gamut of 85 percent owing to the lack of a notch.
Boutique store of apps:
Users can browse, download, manage, and share mobile applications through the HUAWEI AppGallery, which is part of Huawei's official distribution platform. Growth in global app use is being sought with the goal of providing users with secure, curated, and diverse experiences. Those who use the app on a regular basis will have access to app-exclusive material, local activities, and exclusive promotions.
EIS Technology:
Electronic image stabilisation (EIS) technology is used to ensure that handheld video is recorded in a steady manner. You can concentrate on being creative and shooting beautiful and smooth motion video without having to worry about purchasing additional equipment.
When photographing in settings with a large dynamic range, handheld exposure processing of up to 6 seconds may be used to capture more shadow and highlight information. The 51200 ISO and noise reduction technologies make it possible to take night photographs without the need of a tripod.
Battery capacity:
Actually, this gadget provides you with the appearance and feel that you want! With its back camera, which has a classic halo shape and is inspired by shifting colours of the sky as well as the art of light and shadow, the Nova 9a is an eye-catching device. At first glance, you would be enchanted by its dazzling beauty, and you would be right. Only one touch is required to enjoy the amazing grip provided by the 3D arc form and nano-textured surface.
It is time to speak about the remarkable HUAWEI 40W supercharger, which can restore 70% of its original power in just 30 minutes! With its 4,200 mAh battery and artificial intelligence power saving capabilities, you won't have to stop for recharging as often when travelling.
Hardware and storage:
The Nova Y9a is powered by the Helio G80 CPU. An onboard Nano Memory (NM) card slot may be utilised to increase the device's storage capacity up to 128 GB of built-in UFS 2.1 storage, which is a significant increase over the previous model. Because of an out-of-date version of Android 10 running on top of EMUI 10.1, HUAWEI MeeTime, the company's video-calling software, can be accessed fast on this device.
Vivek is a published author of Meidilight and a cofounder of Zestful Outreach Agency. He is passionate about helping webmaster to rank their keywords through good-quality website backlinks. In his spare time, he loves to swim and cycle. You can find him on Twitter and Linkedin.