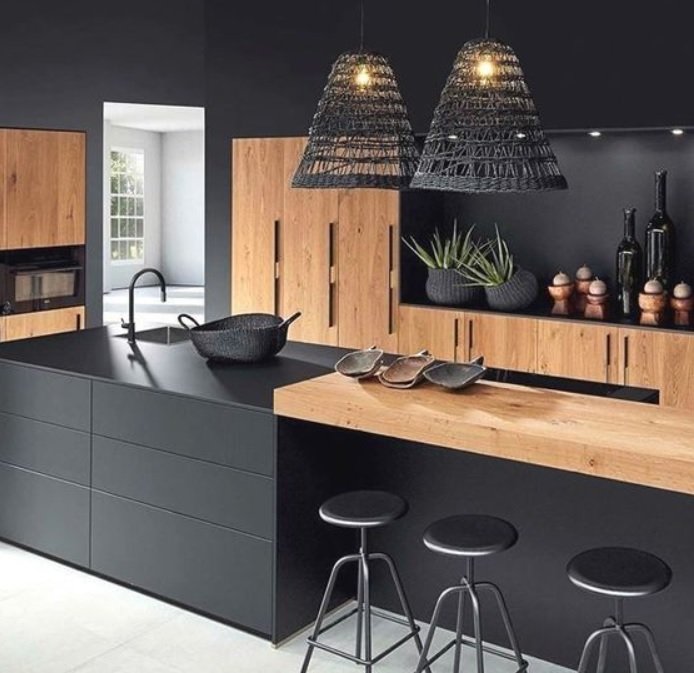 While designing your kitchen you should consider two aspects; setting it up to be aesthetically pleasing to boost your appetite or create a warm ambiance for friends and family and also you might want to make sure that it is functional for food preparation and cooking.
It is also important to consider your budget when it comes to designing your kitchen. Estimate a budget for the project, and stay within your set spending limit. It is important to pick the project's most important components first, such as the flooring, cabinets, and countertops. Additionally, you should consider different trends in the market and blend it with your own personal style to come up with a design that suits you.
Spacing
Even the tiniest kitchen can be made to function efficiently and effectively with the proper setup. Keep the stoves, sink, and refrigerator adjacent to one another for simpler food preparation and cleanup, and leave enough space for storage cabinets and appliance doors to open fully.
With enough space you can add a mobile workstation or island. It would be an ideal location for kids' homework space, work from home station or a family cook-off.
One of the main reasons people consider renovating their kitchens is to create more space for storage. You should also consider overhead cabinets for the kitchen to create more space for operations. Keep items you frequently use close at hand. It would be a hustle if you have to get your cereal bowl or salt every day from the pantry. Overall make sure the entire layout appears beautiful, organized and practical.
Lighting
You are able to set a warm and welcoming mood with just the right lighting in your kitchen. You can have a variety of lights in the kitchen for different purposes.
Lighting helps with visibility when cooking and it can be also manipulated to create the desired ambiance of the room.
For additional lighting, hang pendants over a breakfast bar or kitchen island. There are many chic, cost-effective solutions available. A decent general guideline for the size is that your fixture should be relatively proportional to your island, the smaller the island the smaller your fixture ought to be, and vice versa.
Overall Finishing
Kitchens are used frequently, therefore tough finishes are essential. Do your analysis to see whether the finishes you like will withstand your way of living. Marble, for instance, has a stunning appearance but can be readily stained. A family will children may wish to utilize a resilient quartz or a low-cost laminate substitute instead.
For other features such as cookware and kitchen towels and how they are placed one has to consider their functionality and convenience. The overall design of built-in appliances helps to simplify cleaning by preventing dust buildup on the equipment as well as untidy kitchen appliance placement and tangled wiring.
Material Used
Every kitchen has to factor in the different materials to be used whether for the door or the countertops, the cabinets, the faucets among others.
For most people, some of the major considerations when thinking about materials include weather and how these materials are affected, kids in the house and their safety as well as how frequently the different items are used hence considering the durability of the material. Consider the different elements in the kitchen including the floors. Improper flooring can put the family and other kitchen users at risk.
Material such as Granite, slate, and marble are examples of natural stone countertops that are beautiful, practical, and long-lasting however could be pricey. Ceramic tile could cost less while providing durability as natural stone.
Other materials such as quartz not only possess the same enduring beauty as expensive marbles, but also excel where marbles fall short in performance, durability, and strength. If you are need a bit of inspiration on how to blend the material you can check out OPPOLIA designer kitchens.
Ventilation
Ventilation is a crucial part in setting up a kitchen. Proper air circulation is necessary in the kitchen given the activities and heat generated when preparing food as well as by various kitchen appliances. Also, with the beautiful aroma from cooked food, you do not want the room to feel stuffed hence good ventilation will ensure that the different smells coming from the kitchen are circulated through. When the kitchen is well ventilated and has fresh air circulating, people are more inclined to spend more time in the room.
Final Word
Kitchens are spaces where a lot of activity takes place and therefore, when designing your kitchen ensure it depicts your lifestyle and preference. While at it ensure the design caters to utility and aesthetics.
Vivek is a published author of Meidilight and a cofounder of Zestful Outreach Agency. He is passionate about helping webmaster to rank their keywords through good-quality website backlinks. In his spare time, he loves to swim and cycle. You can find him on Twitter and Linkedin.