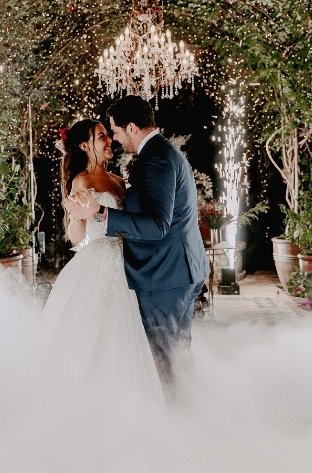 Gettingmarried is once-in-a-lifetime experience for everyone. It is such a special day for any couple, and the celebration must be treated with care and attention. If you are planning a weeding in Phuket, a professional and experienced wedding planner can ensure the greatest result. Most professionals prefer dry ice weddings. Your dance floor will be transformed with a beautiful sea of clouds. Cloud dancing is a special moment created by a dry ice machine that produces white fog that hugs the floor like a child. This will lap around your feet. It creates a magical look that will add sparkle to your first dance.
Dance on clouds for your first dance:
You will already be in a cloud world during your first dance as a married couple. Transform your dance floor into a dry ice wedding floor for an unforgettable moment. The dry ice does not contain any unwanted chemicals or odors. The fog may spread to the ground, which creates a beautiful effect that your guests will never forget without blocking anyone's view. If you are very confident in your dancing steps, this is the best option you can choose during your wedding. Even if you miss a step or two, the fog may hide the mistake. Every person gets impressed by the dry wedding dance performance.
Create a magical atmosphere with a dry ice table:
An alternative way to add your wedding reception is decorating the tables with dry ice. To create a dry ice wedding table, you need a few glass vases filled with warm water and a small amount of dry ice at each table that creates a beautiful effect. This dry ice table gives a feeling that you are sitting in heaven with a smoky cloud-filled atmosphere.
Keep food and drink colder, longer:
If your wedding takes place outdoors during the summer months or if you feel like you want to keep your foods /drinks in a cool place, it may be a good place to keep. Dry ice is the perfect solution to keep things chilled and frozen throughout your reception. The cooling power of dry ice is nearly matchless. Dry ice will not melt like a regular ice cube. Dry ice won't melt into a watery mess, potentially soaking the food you try to keep cold.
Freeze a piece of the wedding cake:
Once your preparation is completed, your wedding night moments will fly in the sky. You will have beautiful photographs and memories to remember your celebration. Nowadays, human-like cakes are available to fulfill the wedding with a surprise dessert. Most of the cake cutting in a wedding ceremony with dry ice makes the best picture combination to make a cloudy look. Using dry ice may also be possible to save a piece of your wedding cake to enjoy your first anniversary while you flip through your wedding album.
The best day in the life of a bride:
One of the reasons why a dry ice machine is decided at your wedding is to ensure that you have some great vision for your wedding videos and photos. It is the greatest day of the bride, and some professional's help to produce an amazing event, which adds to the day's success. The magical day is surrounded by a dry ice environment, which feels like heaven.
The Bottom Line:
A wedding is a soulful way to express your love and care. The cloudy place gives magical moments with a bright picture effect. You can choose a dry ice wedding plan and start your wedding ceremony with special and happy memories to express more specially.
The 30th anniversary of Pacman is rapidly close to. Pacman 30th anniversary is fast approaching, and the anticipation for the game is increasing.
The iconic and immensely well-known Pac-Man game was released in Japan on the 21st of May 1980. By October, it was made available in the United States. The bright yellow, pie-shaped Pac-Man persona, that wanders through a maze to eat dots while avoiding four ghost hunters, swiftly became a symbol in the 1980s.
Vivek is a published author of Meidilight and a cofounder of Zestful Outreach Agency. He is passionate about helping webmaster to rank their keywords through good-quality website backlinks. In his spare time, he loves to swim and cycle. You can find him on Twitter and Linkedin.