Hardik Himanshu Pandya has pictured his cricket career in a very colourful way. The 26-year-old all-rounder has scored 532 runs and taken 17 wickets in 11 Test matches. His stats are even better in the limited-overs format. Pandya has scored 957 runs and taken 54 wickets in 54 One Day International (ODI) games. 
In 40 Twenty20 Internationals (T201), Pandya has smashed 310 and taken 38 wickets. Hardik Pandya represents the Mumbai Indians in the Indian Premier League. Pandya blasted 108 runs against Sri Lanka in 2017 in Pallekele, scoring his first Test century.
Hardik Pandya is an utterly talented all-rounder. He holds a great capacity to change the game in favour of his team too quickly. Many times in the Indian Premier League, the Mumbai Indians fans have seen him doing a magnificent job in every single department. Even for India, Virat Kohli, the Team India captain, puts great faith in his multitasking ability to change the mode of the game from critical situations. Earlier, many cricket pundits and fans saw the shadows of the great Kapil Dev in Pandya's ability to contribute from both bat and ball.
Hardik Pandya is a huge western music fan. He likes to wear fashionable and expensive clothes. He holds a big obsession with top clothing brands. Indeed, he spends a huge chunk of his earnings in many materialistic things. Pandya is also a very sound dancer. His ability to make a good relationship with his teammates makes him a fun-loving personality. We always see Hardik Pandya's jolly appearance in many videos made by the cricket players.
Hardik Pandya – Family
Hardik Pandya was born on 11 October 1993 in Surat, Gujarat, India. Himanshu Pandya is Hardik Pandya's father. His mother's name is Nalini Pandya. Hardik's elder brother Krunal Pandya also represents India as a cricketer. In the IPL Pandya brothers play for the Mumbai Indians. Natasa Stankovic and Hardik Pandya accepted their marriage in May 2020. Two months later, they welcomed a baby boy to their happy family. His age is 29 years.
Natasa Stankovic hails from Serbia. She works as a dancer, model and actress. Stankovic made her Bollywood debut with Satyagraha in 2012. Stankovic had also played her role in the following movies: Fukrey Returns, Daddy, Lupt and Zero. In 2014, Stankovic was a part of Bigg Boss 8. She also featured alongside Aly Goni on Nach Baliye 9 in 2018. Natasa graced Badshah's DJ Waley Babu song with her outstanding touch on the music video in 2014. At the beginning of 2020, Pandya and Stankovic announced their engagement.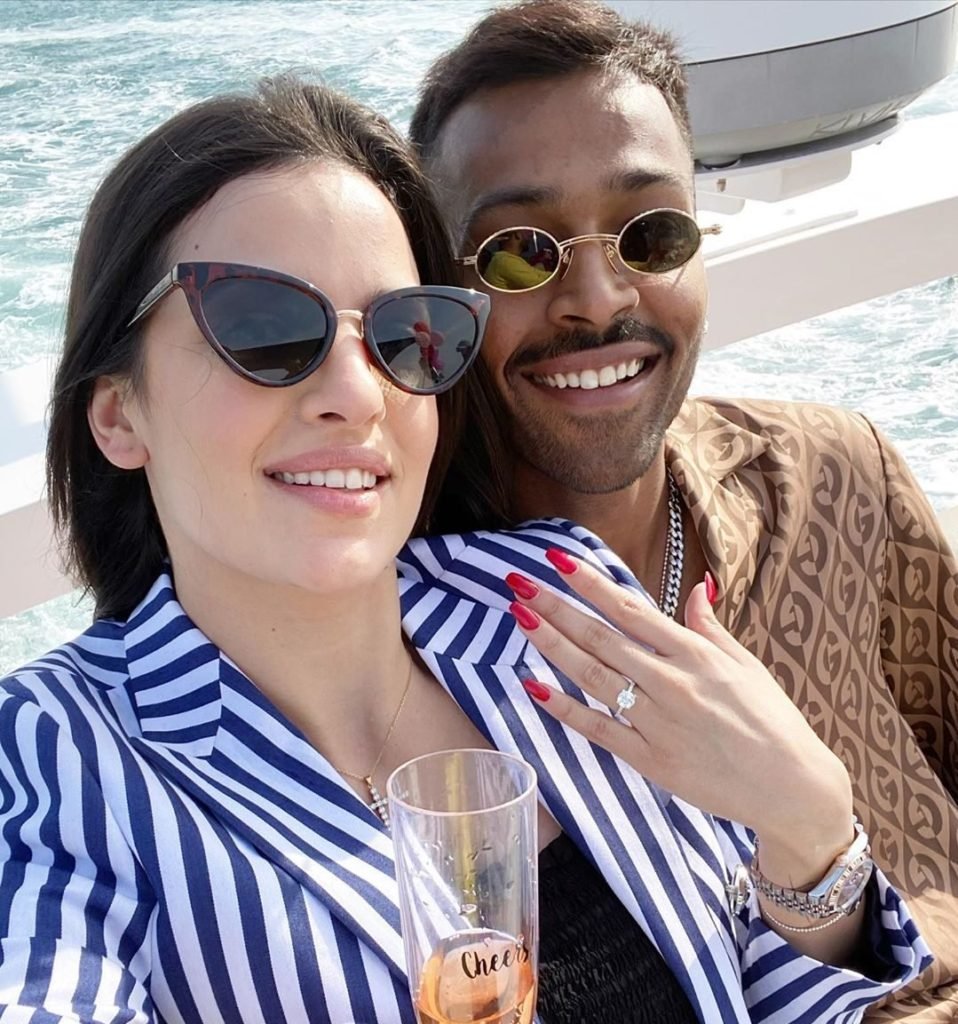 Controversy
India's rising stars in cricket, Hardik Pandya and K. L. Rahul made their first and most likely last appearance on a famous Indian show Koffee with Karan in January 2019. Pandya took his public image to a dark level after reviling his sexual life. Pandya made it clear that talking with his parents about his sexual life wasn't a big thing for the star Indian cricketer.
The episode went viral in India. It led Hardik Pandya to an extreme level of criticism. The show was taken down by the channel just a few days after telecasting.
The Board of Control for Cricket in India (BCCI) hit Hardik Pandya and K. L. Rahul. Both were suspended until a pending investigation. Pandya and Rahul were called back to make their comeback on Australia and New Zealand tours. Initially, the Indian fans trolled Pandya massively at the beginning of his comeback. Even after putting many apologies, it took some time for the fans to forget Pandya's howler. Due to his modern-day nature, Pandya has had faced many problems to make his career better. It was very hard for him to make a cordial relationship with many at the domestic level. 
Also, Read More About – Tyson Fury Biography: Professional Career, Family Life & Much More
Meidilight is a great website for anyone who loves discovering new trends and staying in touch with the latest fashion. The website offers a wide range of clothing items and accessories that are perfect for any wardrobe. Additionally, they offer great discounts on their products making them an invaluable resource when it comes to updating your wardrobe without breaking the bank. We highly recommend checking out the Meidilight website if you're looking to find some stylish pieces at affordable prices!
The MeidiLight website is a great resource for those looking to learn more about meidilight and all of its wonderful benefits. Not only will you find plenty of information on the many ways that meidilight can improve your health, but also you'll be able to purchase high-quality products directly from their store. Whether it's energy supplements or exercise equipment, they've got everything you need to get started with meidilight. So what are you waiting for? Check out the MeidiLight website today and start improving your life!